Hello friends,today it's time to see the detailed review of new Asus zenbook ux481 content . it's a dual display laptop means you will be served a cool slim display just above your keyboard.
It weighs only 1.5 kg which is a balanced weight for laptop users. Most of the people generally like to carry this type of comfortable laptop. talking about it's back you will see a glossy metal with diamond cut display.
Coming to it's audio quality, you will get speakers on both sides which helps you to maintain the sound quality.Moreover, you will experience the power of i5 10th gen. processor which will be also cool for gaming but will fit perfectly for those who want editing and coding. If you love games then I will suggest you to buy the i7 10th Gen variant. NVIDIA Mx250 graphic card is available.Although you will get 2Gb of graphics with i5 one which runs atmost games.Just weighs 1.5kg which is a plus point.
From Where To Buy?
You can easily buy it from Flipkart, currently it gained 5 star reviews.Due to double display it's prices has grown up but you can easily buy this with No-cost EMI in easy down payments.For i5 laptop you will have to pay Rs.89990. If you talk about Vivobook you will get that under 60k but this is just above Vivobook,it's Zenbook completely bezzeless.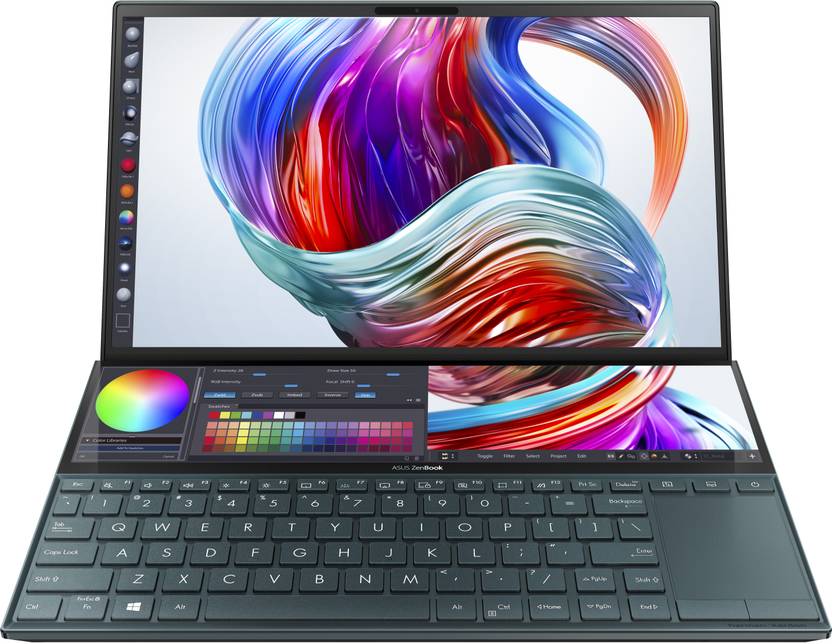 Now in my opinion it's a designers laptop more than a gamers laptop because if anyone loves gaming he directly will look for HP Omen or ACER Swift which is also 90k with i7 processor. This is a laptop meant for designers where it simply offered you duo display along with a complete screen and in less weight.If you are a college student and want something normal work just go for Vivobook. If you are becoming one level up and wants to do a professional work then go for it.